Alexander Godwinson
Level 3
Human
Bandit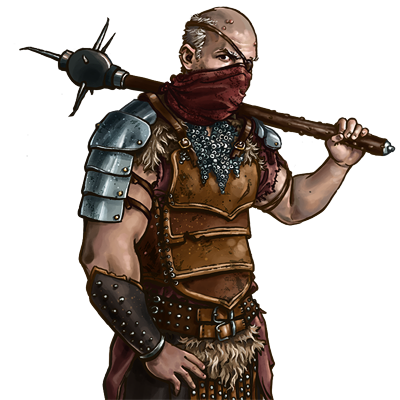 Primary Stats
Strength - 3/10
Perception - 2/10
Endurance - 3/10
Charisma - 2/10 (+1 Skill) (3)
Intelligence - 2/10
Agility - 2/10
Luck - 1/10
Willpower - 3/10
FATIGUE - 10
RECOVERY - 1.5
Engineering(Int) - 10/100
Lore (Int) - 10/100
First Aid(Int) - 10/100
Intuition(Int) - 10/100
Dicipline (WP) - 15/100
Charm(Cha) - 10/100
Guile(Cha) - 10/100
Resilience(End) - 10/100
Athletics(Str) - 10/100
Intimidate(Str) - 10/100
Stealth(AG) - 10/100
Skulduggery(AG) - 10/100
Weapon Skills
One-handed Swords (STR) (AG) 10/100
One-Handed Axes (STR) (AG) 10/100
One-Handed Hammer (STR) (AG) 10/100
Two-handed Swords (STR) 10/100
Two-handed Axes (STR) 10/100
Two-Handed Hammer (STR) 10/100
Daggers (AG) 10/100
Staffs (AG) 10/100
Shields (STR) 10/100
(Ranged)
Bows (AG) (PER) 10/100
Muskets (AG) (PER) 10/100
Equipment
Light Warhammer | No effect | 5AT"
Light Crossbow | No effect | 4AT
Light Leather Chestpiece | 3DT
Light Leather Pants | 3DT
ITEM|Ability|DT/AT
Abilities
Level 2 - Charm - +1 Charisma passive
Level 3 - EVERY MAN FOR HIMSELF - Natural ability - Alexander has a swift ability of moving out of combat quickly.    In short, when Alexander feels his life is under threat and makes a decision to run away.  He's extra Atheletic +2 agility when escaping.
Last edited by Madcombat on Thu Sep 01, 2016 8:25 pm; edited 8 times in total (Reason for editing : Fixing the hole thing........)